Opportunity Catalog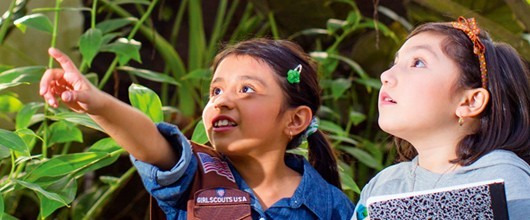 Volunteer Opportunity Catalog HERE
The Opportunity Catalog is an awesome tool to help new members find opportunities to join a troop, or volunteer with Girl Scouts! 
To help new members join Girl Scouts, you can add your troop to the Opportunity Catalog, our easy, online listing of troops with open spots for girls or volunteers.
How Can I Add to My Troop?
There are two steps to add your troop to the Opportunity Catalog:
Update Your Troop Information
Log into your My GS Member Profile and click on the Troops tab. Scroll to the bottom of the page, and in the bottom left corner click on the View/Edit Troop Information link.
Review the following information and make changes: 

Meeting Day(s)
Meeting Location
Meeting Frequency
Meeting Start Time/End Time
Program Grade Level
Desired Total Number of Girls*
*Note: If you have open spots, this number will be higher than the total number of active girls on your current troop roster.
Send us your updated troop information
If you indicated you have open spots for girls or volunteers, your troop will be added to the catalog within 1-2 weeks. After that, girls and potential volunteers will be able to select open spots in your troop through the Opportunity Catalog. When a new girl or volunteer joins your troop, you'll get an instant email notification. Please reach out as soon as possible to welcome the new member to your troop and give them any important information for getting started.
Frequently Asked Questions
What does the Opportunity Catalog look like?

How can I make sure the correct number of girls join my troop?

The Opportunity Catalog is easy to use!

First, troops decide how many girls they would like to have in the troop. Then, we subtract the total number of girls currently in the troop from that number to determine the "girl vacancies." So, let's say a troop's desired number of girls is 12, and currently there are 10 girls in the troop. That means there are 2 girl vacancies in the troop.

Those two girl vacancies go on the Opportunity Catalog so that a parent or guardian who is looking for a troop can see that there is space in the troop and can then select that vacancy online in the Opportunity Catalog.

How do I know if a new girl joins my troop?

When a new girl joins a troop, the troop leader will get an email notification. This email will prompt the troop leader to reach out and welcome the new Girl Scout to the troop. This connection is really important because it's warm and friendly, and gives the leader an opportunity to share important next steps, including meeting dates, times, and location.

How do I add a specific girl to my group

If you would like to invite a friend to join your troop (girl or adult volunteer), just have them visit gslpg.org and click on Join Today or Volunteer Today.

The process will walk them right though becoming a member, completing the background check (for volunteers), and selecting a troop.

As long as there are open spots in your troop - and you've indicated that you'd like your troop to be displayed in the Opportunity Catalog - the new members will find them in the Opportunity Catalog and can easily join.

What information will be included in my troop's Opportunity Catalog listing?

Since girls will be looking for troops in their areas, the listing will include when and where your troop meets, the troop number, and troop age/grade level.

We never list the exact location of a troop meeting, but do give a general sense of the location to help families select a troop that works best for their schedules and locations. If you meet at a person's house or other private location, you may choose to identify a nearby intersection or landmark. To customize your listing, you can also share three fun facts about your troop to be added in your troop description. Pretty cool, right?

When and how do I submit information so my troop can be included in the Opportunity Catalog?

What if I have an opening mid-year, or I need to make changes to my meeting information?

You can update your Troop Meeting Information at any time through your online MyGS profile! Just log in, click on the Troops tab, and scroll to the bottom of the page. In the bottom left corner click on the View/Edit Troop Information link.

Please update it anytime you have changes to your meeting location or troop availability.