Volunteer Appreciation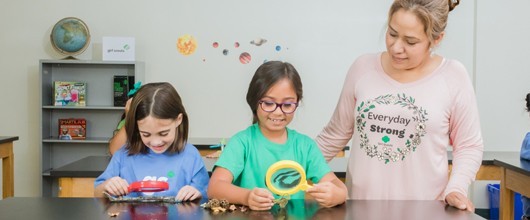 Girl Scout volunteers are the life of the party and the heart of their troops. Their dedication powers the lasting friendships and awesome new experiences girls discover in Girl Scouts.
We want to extend a sincere Thank You to every volunteer in Girl Scouts of Louisiana - Pines to the Gulf for how they help develop and nurture girls of courage, confidence, and character. Our volunteers make the world a better place with the love, patience, and committment they show to girls every day, and we are beyond grateful for their influence.

Volunteer Appreciation 2021
This year for Volunteer Appreciation month there are several ways to show appreciation to the Girl Scout volunteers in our lives.
GSLPG is offering a token of appreciation in the form of a custom wood grain pocket knife engraved with "Volunteer Appreciation 2021." This premium pocket knife is available free to all GSLPG volunteers through a variety of options. Volunteers in the Lafayette and Shreveport area can call their Service Centers and schedule a time to pick up their gift; for those located in the Alexandria, Lake Charles, or Monroe areas, local Troop Support Specialists will reach out to coordinate a meeting time and location. Volunteer Appreciation pocket knives are availble while supplies last.
Another way troops can say thank you to their special volunteers is through The Trefoil Boutique's Big Thanks Care Package. The bundle includes 3 volunteer appreciation patches and the boutique's brand new GSLPG ball cap. The care package comes neatly boxed with a specially designed thank you card and the Volunteer Appreciation pocket knife will be included in care packages for those who have not yet received their gift.
The Big Thanks Care Package retails for $28.00, which includes shipping, and personalized care packages can also be arranged if special requests are desired. Call the Trefoil Boutique to order your Big Thanks Care Package for your favorite volunteer! 
Girls can also show their appreciation while earning a fun patch by completing 3 Leader Appreciation activities that show your thanks for the hard work and care that leaders exhibit every day. See the Leader Appreciation Patch Program page for details!
This past year has thrown us a lot of curveballs, to say the least. But our volunteers have never waivered in their dedication to walking with girls through all the ups and downs. You have been a constant in times of incredible upheaval , and we can't thank you enough for all you do and the lives you touch just by giving of your time, patience, expertise, and compassion.
We are so thankful for each and every one of you and the role you play impacting the lives of Girl Scouts all over our regions. From the bottom of our hearts, thank you for being a Girl Scout volunteer!

Informal Appreciation
Informal rewards are day-to-day ways to say "thank you" to volunteers—they are intangible benefits and heartfelt displays of recognition. These sincere expressions of appreciation are based on specific contributions and are given in a timely manner. Informal recognition is powerful and effective, because volunteers feel valued by a personal touch! Examples of meaningful informal rewards include:
A thank-you card or letter
Sending the volunteer's supervisor or CEO a letter recognizing her/his contributions.
Buy a small gift of appreciation
Coordinate a 'thank you' gift with the entire troop
Coordinate a small 'thank you' party with their favorite snack or dessert
Print your favorite picture of you with your leader to give them
Showing interest in a volunteer's personal life (such as asking about weekend plans)
A shout-out on Facebook or Twitter
Make your own!

Formal Appreciation
Volunteer Award Nominations

Do you know a volunteer who has done outstanding work? A volunteer who has inspired your daughter, provided a fantastic event for the girls in your service unit or made day camp the best ever. Take some time to consider GSUSA National Awards and Girl Scouts of Louisiana Pines to the Gulf awards and nominate this outstanding volunteer for a Girl Scout award. All award nominations open in October and are only able to be submitted through the links on our Awards & Recognitions page.
Still need help? Check out this handout for tips on how to write a great letter of recognition!