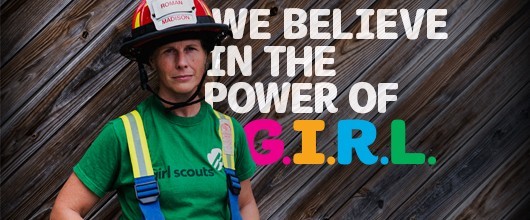 You are more than a Girl Scout. You're a G.I.R.L. (Go-getter, Innovator, Risk-taker, Leader)™
We believe there's no such thing as too much. That there's no excuse for making excuses. Our strength doesn't come from how much we can lift but from how often we can lift ourselves back up. We are everyday optimists. Adventure seekers. Problem solvers. We are girls, troop leaders, mentors, advocates, parents, Girl Scouts. We are G.I.R.L.s (Go-getter, Innovator, Risk-taker, and Leader). We will not stop. In fact, we're just getting started. Renew today. Check out our Renewal & Registration Guides in the lefthand tabs to answer any questions you may have about the online renewal process.


On-Time Registration
On Time Registration ends on September 30!

Why is this so important? It's the last day for troop co-leaders to renew current troop members to ensure their girls get placed back in the same troop. Any girl not renewed by the start of the 2018-19 membership year on October 1 will be automatically removed from the troop roster and will be in jeopardy for losing her spot. After that, only the girls' parents will have access in the system for renewal and will need to get the girl placed back in her troop.
Co-leaders and Parents: Click on "MY GS" in the menu above to get started!
 Troop Renewal Guide (PDF)
 Family Renewal Guide (PDF)
Need help logging into MY GS? Contact Member Support by email or call 800.960.2093.
Renewing your membership with Cookie Dough?

FAQ
Who can register?
 Troop leaders can register members of their troop (girls and adults)
 Families can register all members of their family in a single transaction
 Individuals can register themselves
How?
Log in to the Girl Scout Member Community to update your information and renew your membership.
How do I log-in and/or reset my password?
Returning User - Log in using the email address and password you originally set up for the Girl Scout Member Community. If you have forgotten your password – you can reset it by clicking "Forgot Password". You will then receive an email from "Member Community" with a link to reset your password. If you have trouble logging in contact GSLPG and we'll help you out.
First Time Users – Click on the "reset password" link and enter your email address in the username field that you provided GSLPG when your registered for Girl Scouts. An email will be sent to that email address to reset your password and create a user profile for the Girl Scout Member Community. If you have trouble logging in contact GSLPG and we'll help you out.
How much does it cost to renew?
The cost of 2019 membership is $25.
How does financial assistance work for renewal?
Girls who are requesting financial assistance will need to register individually. Troop leaders cannot request financial assistance on behalf of a girl.
Can I use Cookie Dough?
Girls can use cookie dough for their membership fee! Girls who utilize cookie dough for membership will need to complete renewal on paper. Please contact us to request a paper form.
Adult registering for more than one troop…
All current volunteer positions, including all troop and service unit positions will auto populate during the volunteer renewal. If a volunteer has positions with more than one troop they will also show up. If a troop doesn't show up please finish registering and then contact GSLPG.
Volunteer Roles
If you do not see your volunteer role(s) please finish registering and then contact GSLPG. We can easily assign your volunteer role after you have registered. If you are changing your volunteer role or adding an additional role please finish registering and then contact GSLPG.
Missing Members/Incomplete List
Girls who did not have a 2018 membership or were not listed with your troop will not appear on the renewal page. If you see a troop member is missing they can register themselves, or you can contact GSLPG to register them with your troop. Be sure to provide the member's name, email address, birthdate and/or grade in Fall of 2018.
How do I change personal and/or troop information?
Use our Contact Form to let us know. You can tell us if a girl is transferring in or out of your troop, update a girl's grade or school, change an address, and more.
Background checks
Adult Girl Scout members holding a GSLPG volunteer role are required to
complete a background check every three years. The background check is at no cost to the volunteer and is completed online. Following the completion of 2019 membership all volunteers who have not completed a background check in previous years, or have not completed a background check in the past three years will be asked to complete a background check.
Volunteers completing the background check will receive two emails, one from GSLPG and one from the background check vendor, including specific directions on completing the background check.
Background checks expiring prior to 10/1/2018 must be redone BEFORE a troop leader can complete their troop's renewal.