For Girls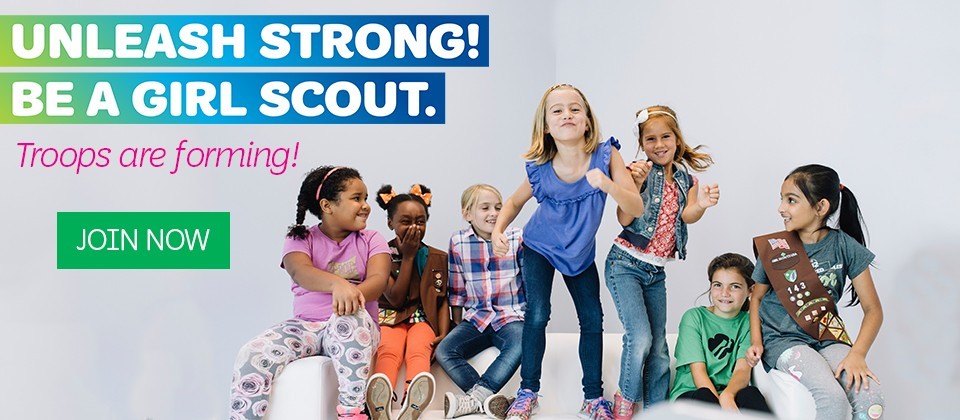 Want to learn more about Girl Scouts of Louisiana - Pines to the Gulf? Come out to one of our Informational Nights and get the scoop on what Girl Scouts is up to in your community, and why now is the time to join! Check the map for an event near you. We're ready to help you Unleash Strong and become a Girl Scout today!
Volunteer for Recruitments - Interested in hosting a informational meeting at your school? Sign up to assist our recruitment team! If you can't host a meeting you can still volunteer to call and schedule recruitments, deliver flyers to schools or more.
MLK Library - Meeting Room: Thursday, October 4, 2018, 5 p.m.
1115 Broadway Ave, Alexandria, LA 71302
Alexandria Mall - Food Court: Saturday, October 6, 2018, 12 p.m.
3437 Masonic Dr, Alexandria, LA 71301
East Natchitoches Elementary School - Cafeteria: Tuesday, October 9, 2018, 5:30 p.m.
1001 E 5th St, Natchitoches, LA 71457
Lafayette Parish Library - South Regional Branch: Prairie Elementary Recruitment: Thursday, October 4, 2018, 6 p.m.

Charles Burke Elementary, Ridge Elementary, & Duson Elementary School Recruitment - Thuesday, October 9, 2018, 5 p.m. 
2845 Ridge Rd, Duson, LA  70529
St. Edward Catholic School Recruitment - Thursday, October 11, 2018, 6 p.m.
175 Porter St, New Iberia, LA  70560
T.S. Cooley Magnet: Thursday, October 4, 2018 - 5:30 p.m.
2711 Common Street; Lake Charles, La 70601
J. Ward Elementary: Tuesday, October 9 - 5:30 p.m.
208 Shankland Avenue; Jennings, LA 70546
Bell City High School: Wednesday, October 10, 2018 - 6 p.m.
7161 Hwy 14 E; Bell City, LA 70630 
Central Rayne Kingergarten: Wednesday, October 10, 2018 - 6 p.m.
507 North Polk Street Rayne, LA 70578 
South Beauregard Upper Elementary: Thursday, October 11, 2018 - 5:30 p.m.
12378 Highway 171, Longville, LA 70652
KR Hanchey Elementary: Tuesday, October 16, 2018 -  5:30 p.m.
611 Frusha Drive, DeRidder, LA 70634
Carver Elementary: Tuesday, October 23, 2018 - 5:30 p.m.
220 Martin Luther King Dr., DeRidder, LA 70634
Ollie Burns Branch Library: Thursday, October 4, 2018 - 6 p.m
5601 US-165, Monroe, LA 71202
Girl Scout Office: Friday, October 12, 2018 - 4:30 p.m.
1830 Tower Drive, Monroe, La, 71201
Girl Scout Office: Saturday, October 13, 2018 - 9:30 a.m.
1830 Tower Drive, Monroe, La 71201
Trinity United Methodist Church - Movie Room: Thursday, October 18, 2018 - 5 p.m.
1000 Woodward Ave, Ruston, LA 71270
Girl Scout Office: Thursday, October 18, 2018 - 5 p.m.
1830 Tower Drive, Monroe, La 71201
Cypress Point Elementary School Library: Thursday, October 25, 2018 - 5:30 p.m.
6701 Mosswood Dr. Monroe, LA 71203
Holly Ridge Elementary School Fall Family NIght: Thursday, October 25, 2018 - 6 p.m.
2306 LA-183 Rayville, LA 71269
Simsboro Elementary School Cafeteria: Tuesday, October 30 2018 - 5 p.m.
1 Tiger Drive Simsboro, LA 71275
Herndon Magnet School: Friday, October 5, 2018 - 6 p.m.
11845 Gamm Rd, Belcher, LA 71004
Keithville Elementary School: Saturday, October 6, 2018 - 10 a.m.
12201 Mansfield Rd, Keithville, LA 71047
AC Steere Recruitment: Tuesday, October 9, 2018 - 5:30 p.m.
3921 Southern Ave, Shreveport Louisiana 71106
Westwood Elementary School: Tuesday, Octobber 9, 2018 - 5 p.m.
7325 Jewella Ave, Shreveport, LA 71108
JS Clark Middle School: Thursday, October 11, 2018 - 9 a.m.
351 Hearne Ave, Shreveport, LA 71103
Sheveport Office Recruitment: Saturday, October 13, 2018 - 10 a.m.
3921 Southern Ave, Shreveport Louisiana 71106
North Desoto Upper & Lower Elementary: Monday, Octoaber 15, 2018 - 6 p.m.
2623 US-171, Stonewall, LA 71078
Apollo Elementary: Thursday, October 25, 2018 - 6 p.m.
2400 Viking Dr, Bossier City, LA 71111
Crawford Elementary: Friday, October 26, 2018 - 6 p.m.
935 Daniel St, Arcadia, LA 71001
North Webster Upper Elementary: Friday, OCtober 26, 2018 - 12 p.m.
Webster St, Cotton Valley, LA 71018